In recent years I have decided to move away from using soft shells in my mountain layering system to rather favoring fleeces. Fleeces are, generally, lighter than soft shells and tend to wick better.
There are lots of fleeces on the marked and personally I like the light weight, well fitted sort of technical fleece.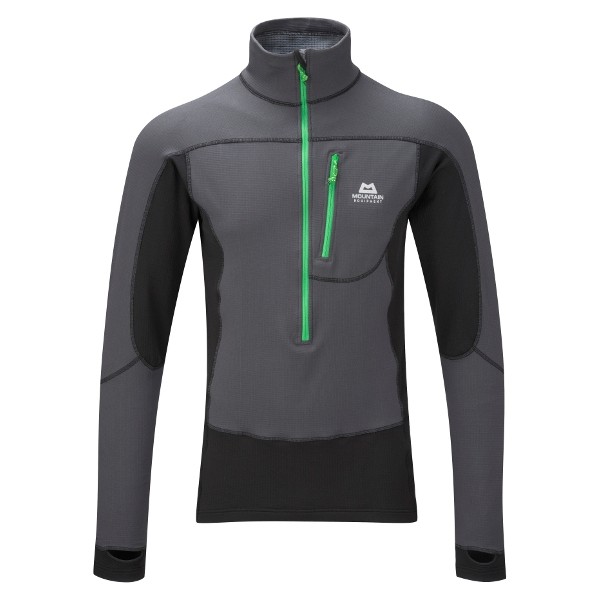 Over the past few months I have been testing the Mens Eclipse Zip Tee from Mountain Equipment and here are my thoughts on it.
First of all its very well fitted and isn't baggy, on me at least. If something fits one person it doesn't mean it fits the next but if you have a sort of athletic build then this will be fine.
The eclipse tee is very warm. This is some what of an advantage if your climbing in cold conditions but I have found it a bit too warm whilst dry tooling, even over the winter months!
I have used the eclipse quite a lot since getting it and it still isn't showing any signs of wear. I usually find that in products of this nature the thumb loops get damaged quite easily, but that is not the case with the eclipse.
My review so far has been praising the eclipse, but if your reading a review I suppose you want to know what I didn't like. Not much is the answer. Everything on the fleece I have liked, however it is missing something; a hood. I am a big fan of hooded fleeces. I prefer not to wear a hat under a helmet in winter and instead use the hood from my fleece. There is a model of the Eclipse which has a hood, imaginatively called the Eclipse Hooded Tee, which I imagine is pretty great.
I really like this fleece. It is well fitted and warm, so great for winter adventures. The only thing it is missing is a hood. With the hood I would give the a maximum 2 thumbs up but without I'm afraid it has to be 1 thumb up and 1 thumb down.
The Mountain Equipment Eclipse Zip Tee is available from
outdoorkit.co.uk
with 10% off.