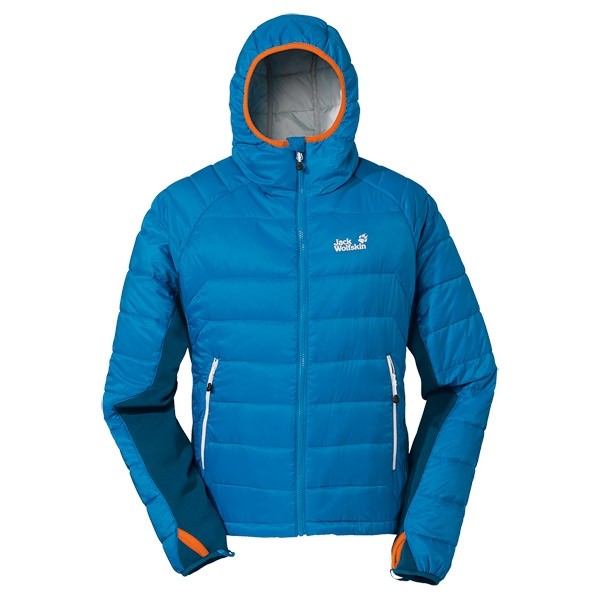 Jack Wolfskin is a company of which I have little experience using. Their kit does look quite good, although Im sure its not that hard to make things look good in a picture on the internet, but I have always been put off a bit by the name. Yes it is a bit silly but Jack Wolkskin just doesn't sound as appealing as Mountain Equipment or Mammut.
Testing in the Cairngorms
The Jack Wolfskin Thermosphere jacket is a semi insulated jacket with stretch panels under the arms hood. On first wearing the jacket I thought I had got the wrong size as it seemed really tight in the arms. I wasn't sure how much I was going to like this super tight feel but I have always think that having something very tight around my arms stops me from getting pumped. This tightness doesn't hinder movement, due to the stretchy panels.
Thermosphere jacket at the STS (under the shirt)
The jacket has a reasonably athletic fit to it, which combined with the tight sleeves, gives a non-bulky feel. This lack of bulk is useful if using the jacket for climbing in, or as a mid layer. I have used this jacket both whilst bouldering in cold conditions and as a mid layer underneath my waterproof whilst winter climbing. It has performed very well in both of these situations. The hood isn't really big enough to go over a helmet, although it will at a push, but does fit underneath quite nicely.
Climbing Magic Crack in the Thermosphere Jacket (blue hood)
There is not enough insulation to make this a belay jacket, but it is very good if used as part of a cold weather layering system.
I have been totally inseparable from this jacket since getting it. It performs well in the hills and is smart enough to wear around town (to the library mostly unfortunately!). If you are borderline in sizing then I would recommend sizing up though.
I absolutely love this jacket! I give it a maximum rating of 2 thumbs up.
The Thermosphere jacket is available from
outdoorkit.co.uk
with 10% off!